Hexagonal Acoustic Wall Tiles
If the sound level in the room is not comfortable, it can be frustrating, stressful and annoying. Hexagon acoustic tiles can be seen in both private residences and commercial environments, where there are often large rooms in a minimalist style. Colored hexagon tiles may also be your experience in a restaurant, school or other similar room. A bad sound will produce a cold sound effect and produce an echo. Hexagonal acoustic wall tiles will improve the sound level​​​.
Hexagonal Acoustic Wall Tiles Features and Advantages
Hexagon sound tiles according to DIN EN 13168
Ecologically sound: wood wool, combined with minerals
Up to NRC 0.85, good sound absorption value
Flame retardant B-s1, d0 according to DIN EN 13501-1
High vapor permeability
Rugged surface/impact resistance
Easy installation of acoustic hexagon tiles
Thicknesses: hexagon tiles 15, 20, 25mm
Standard size: side length 100mm, 200mm, 300mm.
Multiple applications and creative designs (all RAL or NCS colors available)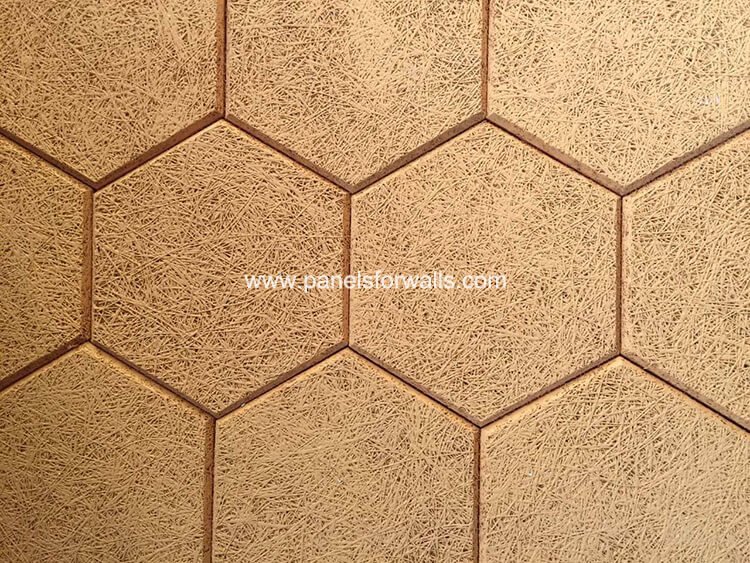 Volatile organic compounds are usually abbreviated as VOC and can be found in every household (see also the results of the GerES German Environmental Health Study). These are a large number of synthetic and natural substances. Even at room temperature, they emit gases from various materials and products used in interior decoration and daily necessities. They also include nitrogen oxides (NOX). The air is polluted by the emissions from the electric motor. Vehicles or coal-fired power stations. Hexagon wood wool panels have no VOC.
Simple style and practical solutions
Hexagonal acoustic wall tiles and wood wool acoustic wall panels create an elegant atmosphere and attracts many people. However, simple decoration will also bring challenges to the sound level. In the tools of the hexagonal acoustic wall tile, you will add beautiful visual elements to the house and have many functional benefits. Wood is an easy-to-manage material that can complement other interior decorations in the house. Hexagon sound tile gives a primitive and simple expression, which will be unique and thoughtful.
With this balance of modernity and fashion, you will find that staying in the room without causing acoustic interference becomes more comfortable. At the same time, by choosing the type of colored hexagon tile, you will have a great opportunity to incorporate your own personality into the hexagon acoustic tile. According to your own preferences and wishes, it is possible to create the perfect expression in your home or business. Our classification of acoustic hexagon tile offers different options. Therefore, there is a good opportunity to create darker expressions and choose lighter shadows. All in all, you will have the opportunity to achieve design and nature in your home on a new level.