Wood Wool Acoustic Wall Panels
Wood wool acoustic wall panels have been produced and used for decades, and are usually used as building sound-absorbing and sound insulation materials. Acoustic wood wool panels are made of 100% pure wood and magnesium, with a minimum density of 580 Kg/m3 and excellent high frequency sound absorption performance. With decorative panel for walls, you will experience a lasting revolutionary solution while creating a beautiful Nordic look in your home or other environment. Our wood wool acoustic panel price competitive is an alternative to our wooden slat wall panels.
Wood wool panel, size 2440x1220mm, has different functions. It adds a warm, original and rustic look and blends perfectly with minimalist decoration. In addition to the practical and visual benefits, you will also add other details to create a beautiful appearance. Sound panels for walls china will add new and innovative elements to your home or workplace, blending well, but still maintaining a refined and distinctive appearance.
Application areas:
Auditorium, meeting room
Seminar hall, library, indoor gymnasium
Cinema, home theater wool wood panels
Open room, study room, bar
Wood Wool Acoustic Wall Panels Benefit:
Excellent sound absorption (NRC 0.7-0.9)
Beautiful acoustic wood wool panel (Thickness 15, 20, 25mm)
Multiple colors to choose from
Environmentally friendly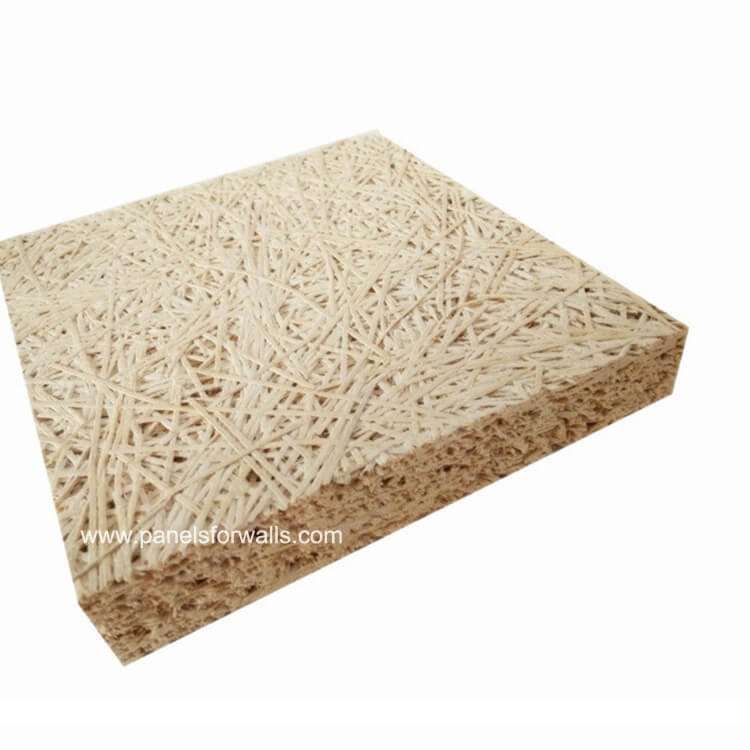 Maintenance:
Maintenance instructions and suggestions for removing dust, pen marks, and stains are as follows:
For any type of dust or dirt particles on woodwool board, please use a smooth brush or vacuum cleaner. Make sure to clean in only one direction.
Use fresh, high-quality detergent to remove handwriting or smudges. Make sure to clean in only one direction.
For oily stains, use volatile solvent-based cleaners. Make sure to clean in only one direction.
Sustainable development of acoustic panels
We are very concerned about sustainability and nature. Therefore, we always provide you with wood from sustainable forestry suppliers. This means that the number of trees felled will not exceed the number that nature can reproduce. In addition, it protects the lives of animals and plants and ensures conditions for forest workers.
Our wood wool sound panels for wall and hexagon wood wool panels are made of specially developed wood wool, which is manufactured in the same way as our wood with a sustainable focus. Every year, a large amount of plastic is thrown out in nature, which is harmful and brings huge consequences. This is why our felt is made of natural wood wool. In this way, we help turn waste products into beautiful interior decorations. Our wood wool acoustic wall panels are easy to assemble and save a lot of time. If you have any questions, please contact us.