Woodwool Board
Acoustic woodwool panel is bonded with magnesite (fiber width 0.5-1 mm). Biologically, it is recommended to build a beautiful surface structure. Magnesite woodwool board is very strong, like a honeycomb porous structure, with excellent sound and heat insulation properties. Therefore, to provide architects with the best solutions for health, ecology, heat and sound absorption.
Environmentally friendly
Woodwool fiber is bonded with magnesite. Bonded woodwool boards are environmentally friendly construction and insulation materials because they do not contain organic binders.
Color
In our new modern painting facility, Magnesite woodwool panels are sprayed with water-based paint. To ensure a unique color pattern and good coverage, paint nozzles are sprayed from several different angles. The woodwool panel can be provided in any RAL code. Multiple colors can be used. You can choose from popular color systems, such as RAL, BS.
Dimensions: 2440x1220mm, 600x600mm, 600x1200mm, 600x2000mm, 600x2400mm
Use area: ceiling and wall panel
Certification: E1 woodwool slabs fire resistance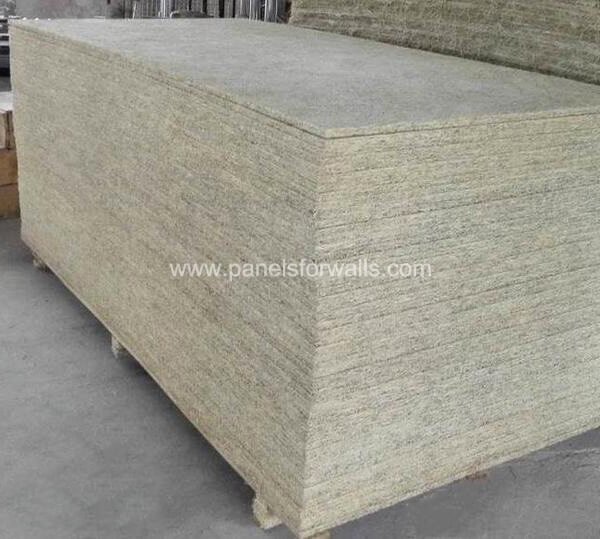 Durability
Due to the best use of magnesium and wood, our woodwool acoustic ceilings tend to be very strong. Products in this category can easily maintain potential moisture release. Therefore, these woodwool boards can be used for cladding ceilings and walls in places with high humidity.
Use and maintenance
Magnesite woodwool board usually does not require follow-up care. However, we recommend cleaning other surfaces regularly and performing other cleanings as needed. Using the absorption properties of the panel, the woodwool board can be easily cleaned. If you want to spray the magnesite kapok ceiling, you can use a long-haired paint roller or a hand sprayer.
Light reflection
The light reflection of the woodwool acoustic ceiling is as follows: white: 70.8% natural light: 55.2% gray natural: 26.3%.
Installation
The installation process of wood wool acoustic panel China is an interior decorator and should be performed under the monitored humidity and temperature settings. However, the pipeline release procedure should be completed before starting. Some notable features of the process include: H-profile tracking channels for walls, which facilitate installation, removal and re-installation.
Application of Woodwool Board
The wide range of applications of acoustic woodwool panels and wood wool panels includes the following fields: auditorium, multimedia, library, hotel, indoor stadium, conference hall, hospital, education, industry, airport, recording studio, museum, shopping center, banquet hall, etc.