Wood Ceiling Panels
Our wood ceiling panels are made of wood wool and cement. The unique structure enables them acoustic properties. The acoustic wood ceiling panels are cut into size so that it is suitable for use between the profiles or wood battens. It can be easily install on standard ceiling grid, saving construction time. The wood ceiling systems are ideal for refurbishing existing ceilings and floating sound clouds.
It's possible to paste smaller size acoustic foam on the back of acoustic wood ceiling panels which ensure fast installation. You can get almost the same sound-absorbing value, just like the classic suspension of the wood ceiling panels and glass wool in the back.
Dimension
Size: 600×1200, 600x600mm
Thickness: 15, 20, 25mm
Density: 10kg/m2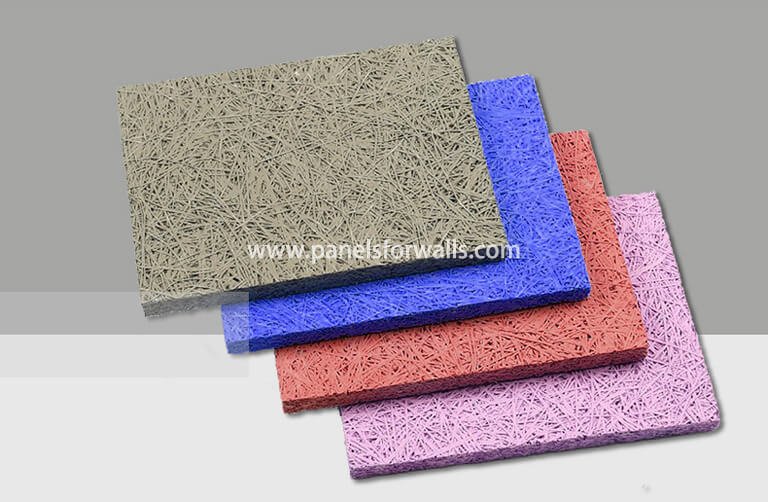 We have a list of available combinations of specifications. You can choose from the options for your customized wood ceilings and walls. The application of our wood ceiling panels includes hotel, home theater, hall, office acoustics, broadcast, government and municipal buildings, music room, restaurants & night clubs, tiled floors, etc.
Easy to Update Old Ceiling
The sound problems can be solved with new wood ceiling panels. However, most people are worried by having to remove the existing ceilings which cause inconvenience and dust. But this can be avoided.
You can install the wood ceiling panels directly on the wooden battens of the existing ceiling, thus saving the trouble of removing the old ceiling. All you need are the wood ceiling panels and rolling scaffold, and the renovation can be done in just a few days.
Floating sound clouds
Floating sound clouds using our wood ceiling panel is the ideal solution if it's not possible to install on the entire ceiling surface. Simply install the wood ceiling panels using the light weight steel configuration system. This creates a simple and elegant acoustic solution for the defined area.
Removable ceilings
Wood ceiling panels are also an ideal solution for removable ceilings, and workers may need to access the ceiling above the installation for other jobs. In a ceiling grid system, simply tilt the wood ceiling panels upwards to check and maintain the installation above the ceiling.