Acoustic Wall Art
Acoustic wall art panels are made of 100% natural material: wood and cement. The combination of wood and cement makes its unique sound absorption performance ensuring good acoustic performance. The acoustic wall material has a natural elasticity that can handle the wet environment while also providing effective fire protection. Our acoustic wall art material is a natural product that has recordable sustainability throughout its lifecycle.
Acoustic wall treatment can have many combinations depending on surface structure, shape such as hexagon, edge, mounting system, color, size and thickness. Our acoustic walls systems also give you the opportunity to integrate and hide the speakers on the ceiling. Also offers specially designed lighting, decorative elements and various accessories.
Structure and color
The surface structure of the acoustic wall art board is determined by the width of the wood wool. We mainly have two different structures: fine (1.5mm) and thick (3mm).
It can be used as an untreated and completely natural panel, as well as painted board. The timber acoustic wall panels consist of wood wool mixed with gray cement. From these mixtures, we produce two basic variants: natural wood and natural gray. Painted acoustic wall art are available in RAL color code.
Natural Raw Materials
Our acoustic wall art is a cement-bonded board made of natural materials – wood and cement. The recipe of our acoustic wall art panel is simple. By mixing wood and cement, we produce cement bonded wood fiber. Combined with the strength of cement and the natural properties of wood, the result is a healthy material that has many inherent natural advantages.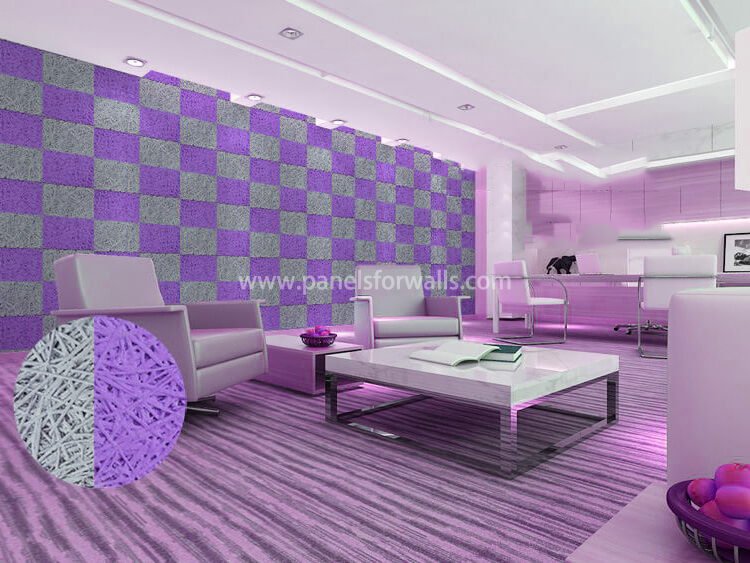 Storage and Domestication
Since it is a natural material consisting of about 50% of the wood, so the panel itself will try to achieve the same temperature and humidity levels as the surrounding environment. Therefore, you should not start installing the wood acoustic wall panels before the building is finished and heating is turned on.
Edge Profiles
By choosing the right edge profiles, you can achieve the beauty of the room you are looking for. On this page, you can see all the various edge profiles available.
Installation
To ensure you get the best results, be sure to store the acoustic wall art board correctly and follow the installation instructions when installing the panel.
Sound Absorption Value
Different types of installation structure may result in different acoustic performance. You may work with acoustic consults to find the required NRC and then to choose the right structure. Here below are 4 typical types and each type has many subtypes.
Installed on the purlins and rafters
Directly mounted on concrete
Installed on gypsum
Installed as a suspended ceiling