Wooden Boards for Walls
There is nothing worse than having a conversation in a room with poor acoustics. You may have experienced it yourself in restaurants, institutions and schools. Wooden slabs for walls can greatly improve your sound environment. To keep good sound conditions, you can use wood wool sound board on wall to attenuate the sound in the room. To improve, you may install fiberglass wool behind the decorative boards for walls.
Our decorative wood tiles for walls are usually used in commercial space. In addition to eliminating reverberation, they can also add natural style to the room. It is both practical and decorative. The wooden boards for walls are quick and easy to install. There are several ways to use the wooden sheets for wall. You can install it to the wall, or you can install on ceiling.
Decorative board for wall is made of aspen fiber by acoustic tiles for walls suppliers, combined with a unique inorganic concrete bond, and finally pressed under high temperature and pressure. It consists of  wood fiber plus anti-corrosion, moisture-proof bonding, degreasing, fumigation, mineralization and pressing with new cement composition.
Decorative wood tile for wall is an acoustic product made by mixing wood fiber and cement under high temperature and pressure. The advantage of wooden slabs for wall over other building materials is that it is healthier than traditional products, and its acoustic performance is several times higher than other materials. Moreover, it is used as a decorative material to give the internal space a complete appearance.
Wooden Boards for Walls Specifications
Size: 2440x1220mm, 600x600mm, etc.
Thickness: 15mm, 20mm, 25mm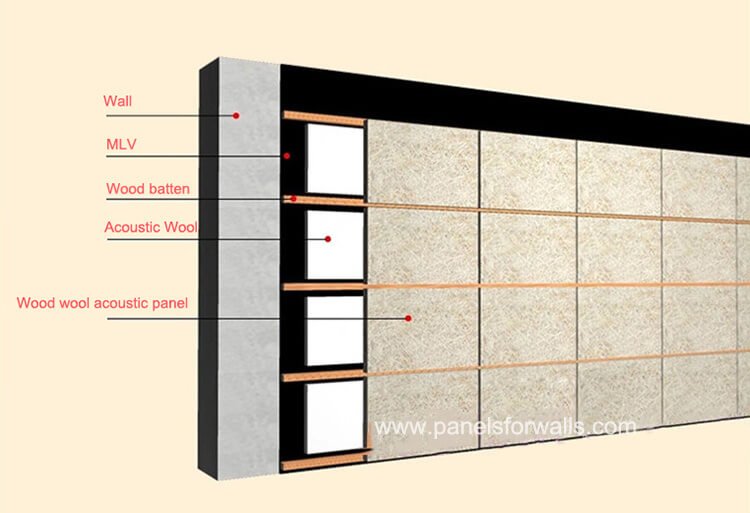 Environmental performance:
Formaldehyde may be one of the most famous pollutants. Before the 1980s, most particle boards or furniture made from laminated wood contained formaldehyde. Even today, formaldehyde may evaporate from clothing, kitchen utensils and wooden toys. Fall and enter the respiratory system. They also include nitrogen oxides (NOX), which pollute the air through emissions from motor vehicles or coal-fired power plants. The formaldehyde content of wood wool sound boards is almost zero. Lightweight, safe and reduce the burden on walls and decorations.
Fire performance:
After special fire protection treatment, wooden board for wall and wood wool partition wall can meet the national fire protection GB8624-1997 B1 requirements.
Acoustic performance:
The average absorption coefficient varies with fiber backing and fineness. However, even if installed directly on the surface, it is quite impressive.
Decoration effect:
This effect is a natural-colored decorative effect, but wooden sheet for wall and wood wool hexagon tiles can be applied, even with a multi-layer coating. It is recommended to use spray paint.