Acoustic Wood Clouds
Wood wool sound absorption panels can be made into acoustic wood clouds. The unique wood wool structure comes from the thickness of wood wool. Wood wool ceiling panels have extremely fine, ultra-fine, fine and rough structures. Acoustic wood wool ceiling is a classic sound-absorbing panel, which can be used for ceilings and walls of all types of buildings.
Natural ingredients
The wood used in the acoustic wool panels has passed China certification. By using certified wood, it can be guaranteed that the wood can be traced back to responsible forestry operations. The production of acoustic wood clouds only uses cement to extract raw materials with minimal impact on the environment.
Color
The wood wool panel and wood paneling for walls are made of gray cement, and its natural form comes in two variants. Natural wood and natural gray. The panel does not require further surface treatment, but the following standard colors of water-based paint spray paint can be provided: all NCS and RAL colors can be ordered.
Acoustic Wood Clouds Specifications
Size: 2440x1220mm, 600x600mm, etc.
Thickness: 15mm, 20mm, 25mm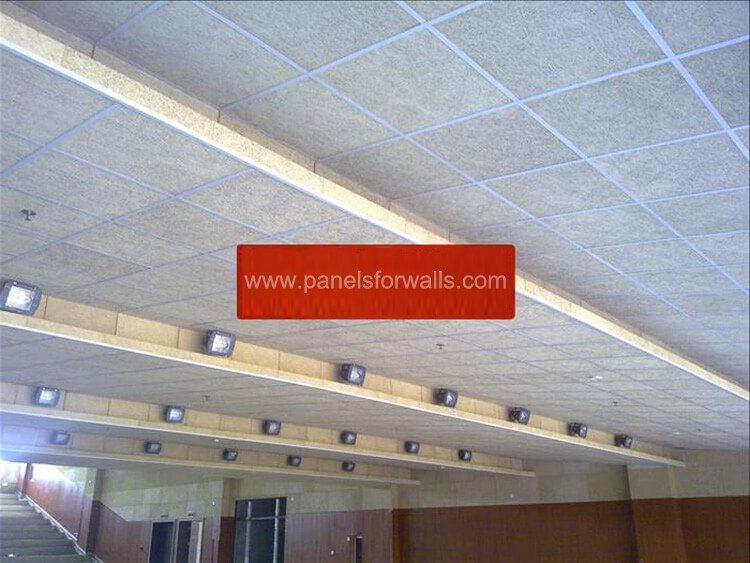 You will find a variety of different colors, wood wool slabs problems, shades and wood types here. Hope you can find a wood wool ceiling panel that meets your wishes and preferences. If you prefer to create dark trees of intensity and depth in your house, you can find it here. On the other hand, if you don't want to create further contrast, you can invest in one of our brighter alternatives. It all depends on you.
Installation
The wood hexagon tiles are installed directly on the wood strips on the ceiling, while acoustic wood clouds are installed in the profile system as a suspended ceiling. It is important to adapt the acoustic wool panel to the environment before installation. They are ideal for refurbishing existing ceilings as well as suspended and floating ceilings. The acoustic wood cloud can save construction time because the soundproof ceiling and lining layer can be installed in the same workflow. The wood wool panels requires specially designed screws and brackets as well as ceiling profile systems for hidden or visible contours.
Sustainable development
The business strategy is based on the cradle-to-cradle vision, which is to create healthy products that are beneficial to human health and the environment, and can be incorporated into natural cycles without wasting resources. Therefore, from the extraction and production of raw materials to the use and reuse of waste acoustic wood wool ceilings, wood wool is fully focused on sustainability throughout the entire life cycle of its products.