Wood Paneling for Walls
Wood wool fiberboard sound-absorbing board is an environmentally friendly, economical and efficient wood paneling for walls, which can be widely used in walls and ceilings. The woven nature of the reinforced wood fiber core makes it an effective wood fibre acoustic sheet. Wood paneling for walls interior is made of wood wool, cement and water. The natural ingredients of wood panelling for walls collectively provide many functional properties, which also allow a variety of coating applications without affecting the acoustic performance. You can use white or natural colors to complement the decoration of any room, or you can paint in any color you want on site.
Environmentally friendly
It found that the readings of as many as 12 organic pollutants in buildings are 5-10 times that of outdoors-regardless of whether the building is indoors or not. A French study examined these volatile organic compounds (VOCs) in schools. Random sampling shows that about 30% of children are exposed to higher readings than those prescribed by the World Health Organization. Wood wool interior panelling for walls is an environmentally friendly material, which is bonded with magnesite by using an adhesive, which means that these wood fibre acoustic sheets are environmentally friendly materials that can be used in any construction. The interior wood panelling for walls also has thermal insulation properties.
Wood Paneling for Walls Technical Information
Core material: wood fiber and bonded materials
Size: 2440 x 1220mm, 600mm x 1200mm
Thickness: 15mm, 20mm, and 25mm
Edge: square
Finish: Natural Wood
Color: transparent or white primer, custom paint color
NRC: up to 0.85
Fire rating: According to the standard
Density: 400/kg/m3
Climate: 90
Weight: 7-20kg/m2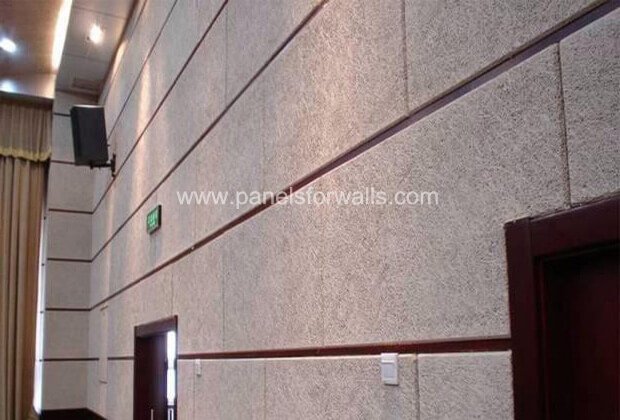 Durability
Wood wool decorative wood panelling for walls has high heat insulation, will not burn easily or quickly, is very durable and has a long service life.
Feature:
The wood fiber panels are thermal insulation, durability, non-flammable, self-extinguishing, compatible with all common building materials, high compression resistance and bending strength, stability, sound absorption and sound insulation. The surface of wood paneling for wall provides a good mechanical foundation for plastering and plastering, easy Use safe operation, cutting and work.
Installation of decorative wood paneling for wall
The installation of wood wool wood panelling for wall system should use galvanized iron and T-shaped grid system and necessary accessories.
Application of interior panelling for wall:
Auditorium, recording studio, multiple/theater, hexagonal acoustic wall tiles for home theater, smart classroom, teleconference and video conference room, multi-function room, company office, etc.