Wood Hexagon Tiles
Wood hexagon tile is a functional natural material. Hexagon sound absorbing wall tile is made of wood and cement, the two oldest building materials in the world. The combination is simple and clever. Wood wool insulation panel has excellent insulation, heat retention and sound absorption. Cement is a reliable and popular building material and an adhesive that provides strength, moisture resistance and fire resistance. Therefore, acoustic wood hexagon tiles are versatile and durable in all climates.
Our hexagon wood wall tiles are available in a variety of nominal sizes and can be directly installed in ceiling or wall-mounted applications. The wood fiber core of our sound absorbing wood panels can not only invigorate rooms with diverse designs, but also reduce echo and reverberation while insulating. Ecologically, it is a better sound environment. With optional edge design, wood wool acoustic panels hexagon boards have natural resilience, can cope with humid environments, and also provides effective fire protection. Use hexagon sound absorbing wall tiles to change the aesthetics and acoustics of any interior space. There are multiple methods for wall or ceiling installation, which makes it a universal acoustic treatment method.
Wood Hexagon Tiles Main features
—Sound absorption
—Insulation
—Fire protection
—Resistant to dry and wet rot
—Anti-freezing and thawing
—Anti-termites and pests
—Thicknesses: 15, 20, 25mm
—standard size: side length 100mm, 200mm, 300mm.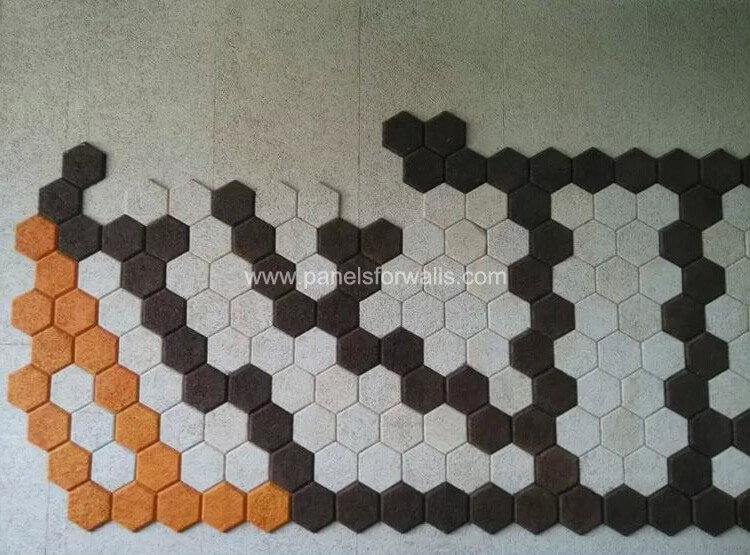 Acoustic hexagon wood wall tiles meet the contemporary expectations of architects and designers through the perfect combination of form and function. They can be combined to create extraordinary structural styles, thereby revitalizing residential, industrial and public spaces. Sound absorbing wood panels are available in various beautiful patterns and colors. Designers and architects can personalize any installation and provide unlimited creative possibilities.
Wood hexagon tiles can store environmental heat and release it when the temperature drops. This helps to reduce energy costs, reduce environmental impact and stabilize indoor climate. Acoustic wood fiber panels are corrosion resistant.
In addition to air purification, kindergartens or schools have a great demand for hexagon wood wall tiles in terms of construction, acoustics and sustainability. Especially when it comes to the number of children who can be irritable in the game, they can make sure you get some relaxing peace and quiet. The sound absorbing wood panel and wood paneling for walls are made of natural raw materials and does not emit any harmful pollutants. Wood clearly comes from ecology, economy and sustainable forestry. In addition, the hexagon sound absorbing wall tile also has an environmentally friendly blue angel label.