Hexagon Acoustic Wall Panels
The hexagon acoustic wall panel is a high-performance cement-bonded wood wool board made of nature's own materials (wood and cement). The combination of wood and cement has unique sound-absorbing properties, which can ensure good acoustics in any room. The wood decorative panel for wall material has natural resilience and can cope with humid environments while also providing effective fire protection.
The hexagonal acoustic panel is a natural product with a documented sustainability throughout its life cycle. The certification covers hexagon acoustic wall panels in natural and standard paint colors. The wood decorative panels for walls combine the strength of cement with the flexibility of wood and have a service life of at least 50 years. The hexagonal acoustic panels are strong and durable materials, even if they are hit by moisture or balls. Cement gives the hexagon acoustic ceiling panel a stable shape and moisture resistance, while wood ensures that the acoustic panel hexagon board is easy to use and suitable for screw installation.
Dimensions: side length 100mm, 200mm, 300mm
Use area: ceiling and wall panel
Certification: E1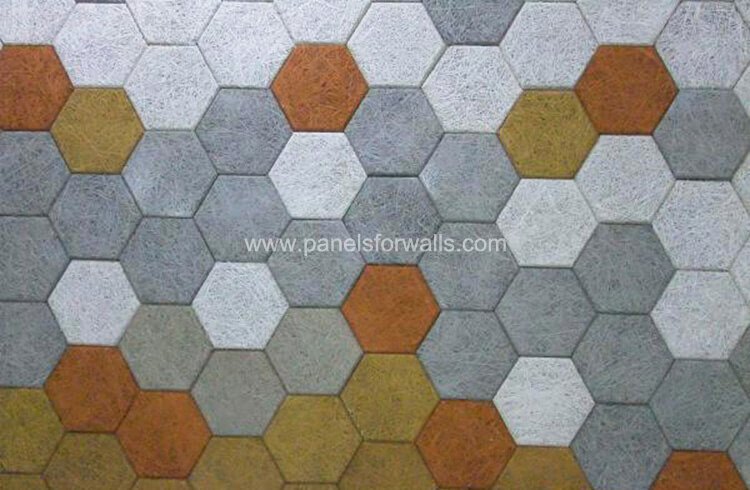 Features and advantages
Acoustic characteristics. The combination of wood and cement gives the panel a unique surface structure that can absorb sound and reduce the room's reverberation time.
Healthy indoor climate. The mineral bonded wood wool board is a natural, breathable material that can absorb and release moisture. The sound insulation board is hypoallergenic.
Recorded sustainability. These hexagon acoustic ceiling panels are sustainable throughout the product life cycle. The wood look panel for wall is made entirely of nature's own materials, produced with minimal environmental impact, and can be returned to nature as compost.
Effective fire prevention. The small hexagon acoustic wall panels in the panel is wrapped in cement, so the flammability of the panel is low.
Flexible design solutions. The unique surface structure gives the hexagon acoustic ceiling panels a unique appearance. Lighting and speakers can be combined and integrated in a complete ceiling.
Application field
Schools and teaching buildings, cultural institutions, kindergartens and daycare centers, acoustic wood clouds for office buildings,  shops, private residences and houses, sports facilities, hotels and restaurants, healthcare institutions.
Features
Wood decorative panels for walls are sound-absorbing, anti-allergic, healthy indoor climate, documented sustainability, effective fire protection, natural strength, flexible design solutions, single-layer and two-layer.
Color of hexagonal acoustic panels
Standard colors: natural wood, natural gray, white 101, gray 202, gray 208, black 207 and red 210
All NCS and RAL colors can also be ordered.