Hexagon Board
The colorful hexagon board is a cost effective and sustainable interior panel. These smaller pieces of hexagon boards are cut from a 2440x1220mm big wood cement board, which is a natural, environmentally friendly material, as it's made of cement, wood wool and water. The panel is non-exhaustive and uses photocatalytic color to take the initiative to reduce light organic air pollutants.
Large open spaces, hard floors and full of people may results in a noise space, but with correct acoustic absorption material such as hexagon board, this space can be both comfortable and beautiful.
The hexagon board for walls and ceilings provides a cost-effective solution for noise control. The decorative panels for walls have fine textured surfaces that can be painted, which means that they can be integrated into the design of the building as a special or neutral background.
Design flexibility is one of the main advantages of the hexagon feature wall, such as hexagon wall cubes and black and white hexagon panels. They can match the corporate branding color, create a specific mood or enliven a public space.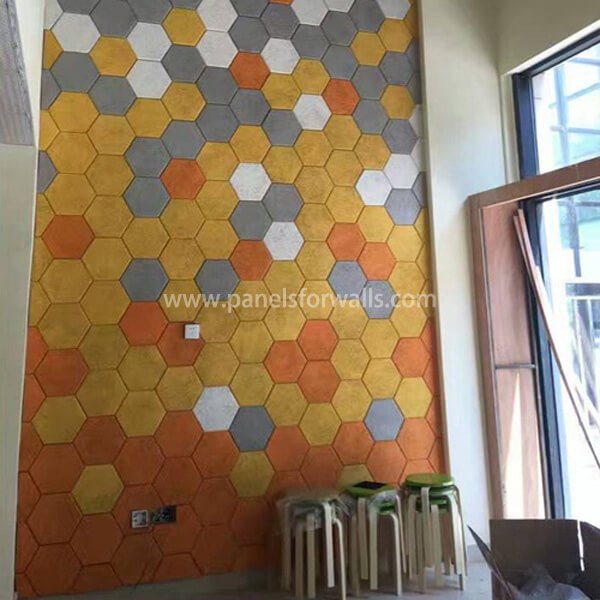 The hexagon pieces panels are available in different thickness and are suitable for different acoustic performance requirements. They can be installed in different ways – directly fixed, wall mounted or suspended ceilings. Besides, there are many other additional advantages, such as excellent fire rating and high impact resistance.
Hexagon Board Specification
Edge profile: square edge, 5mm bevel, visible side of T-section
Standard size: 200 x 200 mm, 250 x 250 mm, 300 x 300 mm
Thickness: 15 mm, 20 mm, 25 mm acoustic wall art
Structure: Fine structure, 1.5 mm, Thick structure, 3 mm
Colour: Natural, Gray, Black, White, Apply other colors
Our hexagon boards are widely used as wall panel in conference rooms, classrooms, airports, hospital, auditorium hall, conference rooms., leisure center, reception area, studio design, etc.