Wood Cement Board
Wood cement board is a decorative panel composed of long and strong wood fiber and cement, which is stabilized by chemical impregnation. These wood cement fiber panels have high heat resistance and high noise reduction performance. Therefore, it is widely used for sound insulation and acoustic treatment of rooms as wall and ceilings.
Product Description
Size: 2440x1220mm
Thickness: 15, 20, 25mm
Application:
Since the main function of these wood fiber cement board panels is soundproofing, these wood wool slabs are widely used in theaters, conference rooms, home theater, office, sports facilities, office buildings, concert halls, recording studio catering facilities, production workshop, garage, Facades, tiled floors, loft floors and so on.
Wood Cement Board Features
• Highly durable
• Good adhesion with concrete
• Excellent sound absorption and reduction
• Eco friendly and green product
• Resistance to aging, parasites, molds and chemical effects
• Easy installation
• Very good mechanical performance
• A pleasant natural look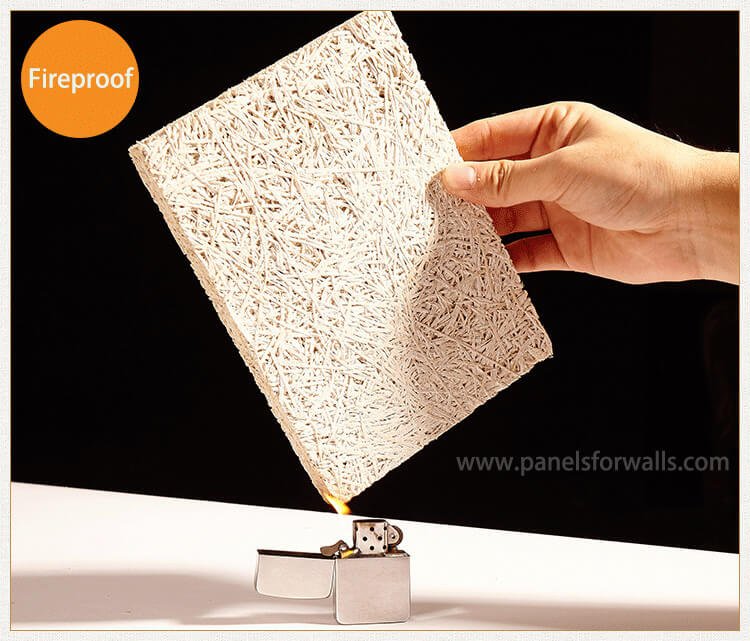 Technical Specifications
• Fire-proof level: Class B (EU 13501); Class 1 (BS476 Part 7)
• Provide NRC (noise reduction factor): 0.80
• Thermal conductivity: λ = 0,074 W
Reasons to buy:
• Economic:
Compared to other decorative or acoustic materials available on the market, our wood fibre cement tiles are very economical and low cost.
• Availability of products:
No matter what quantity you need, we can produce in a short time, which makes it easier and faster to purchase materials.
• Design and installation:
We only produce and supply these wood cement boards, but we don't do installation. Local installer can help you with that since it's easy and simple.
• Quality:
One of our main policies is to provide our customers with the best products. Therefore, we have the best quality wooden cement board on the market.
• Customization:
We can provide products of different sizes, shapes and colors to meet all your custom orders. Note: Minimum order, additional costs, and longer lead times may apply to custom orders.
• Storage:
Since wood wool cement board is a little big fragile, they must be stacked on flat and dry surfaces to prevent them from breaking or bending. If the board is in contact with water, it must be completely dry before installation.
• Samples:
We will provide you with all the necessary samples and product information.
• Installation:
wood cement board can be installed on galvanized iron, wood or aluminum structure. They can be further wrapped in acoustic cloth to get better aesthetics. In addition, they can also be installed on the grid ceiling frame.