Wood Hexagon
Wood hexagon panel is a new interior wall and ceiling material for office and many other interior projects. The hexagon panels are made of 100% natural material: wood and cement. The combination of wood and cement makes its unique sound absorption performance ensuring good acoustic performance. The wood hexagon board has a natural elasticity that can handle the wet environment and provide effective fire protection.
Internet meetings and sharing knowledge through mobile phones are getting popular. The digital form of cooperation is putting forward new demands for the design, acoustics and indoor climate of the physical office. The future office must have several places where employees can collaborate and learn. How to achieve good acoustics in an office environment? Wood hexagon acoustic panels are new design solution combines good acoustics and unique design in the office.
Hexagon Acoustic Panels
Acoustics has a significant impact on the indoor climate of the modern office. But aesthetics is also important for most people. We offer a variety of colorful hexagon boards and design solutions that enable developers and consultants to give wood hexagon sound absorbing panels unique and vibrant designs.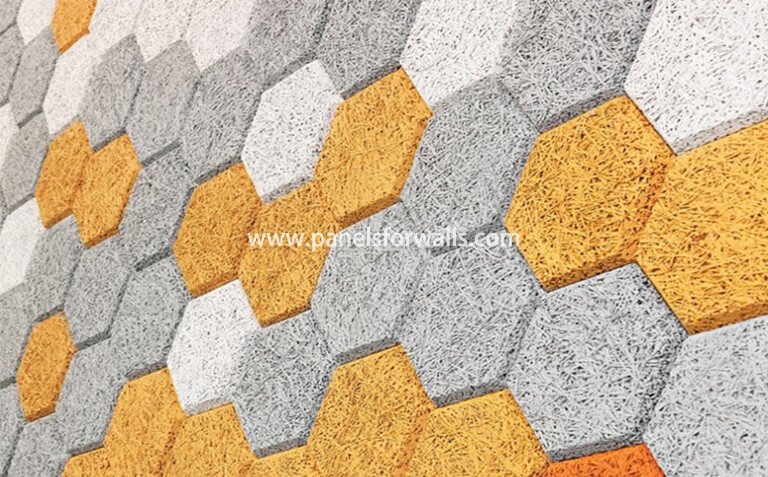 Digital collaboration tools and mobile technology are changing the modern workplaces, so the office must be designed to suit for the new situation. Architects are more interested in how the appearance of the building looks. However, poor acoustics is a major problem in health, productivity and social lives. The building must also be designed for the ear. What is needed to achieve better acoustics? Wood hexagon painted wall is available in wonderful designs with countless possibilities, while at the same time, they have good acoustic performance.
In addition to be used in office, hexagonal wood pieces are widely used in community facilities, hexagon art project, auditorium, theaters, loft floors, ballroom hexagon tiles, facades, multi purpose halls, recording studio catering facilities, studios and production houses, etc.